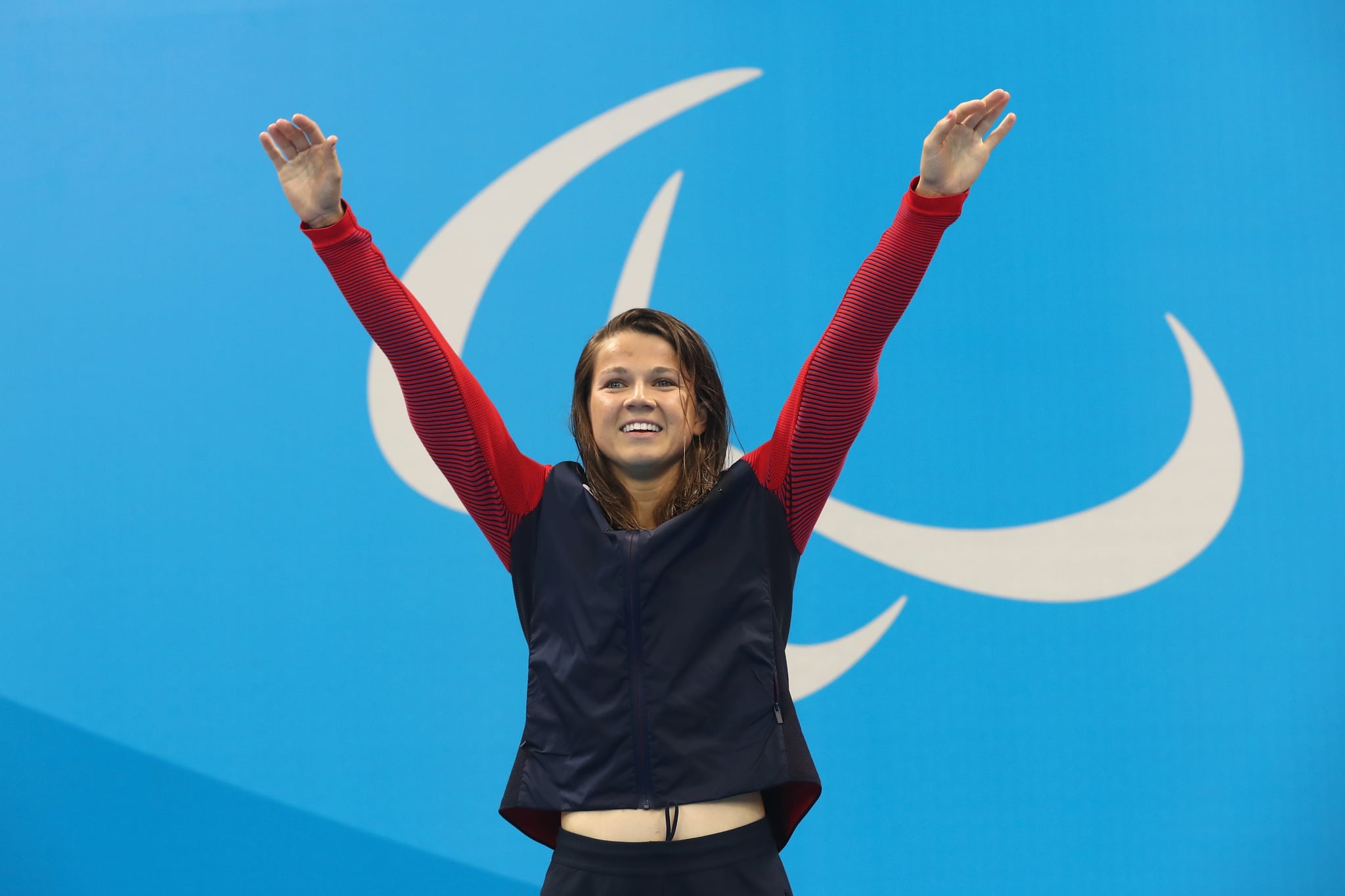 Becca Meyers doesn't understand why others feel like they can, or have to, challenge her own needs as an athlete with a disability. She struggled with this when trying to get her personal care assistant (PCA) — in this case, her mom — approved to travel alongside her overseas for a third Paralympic Games. As the 26-year-old swimmer revealed in July, her request was denied, and she made the heartbreaking decision to forgo her trip to Tokyo for the sake of safety.
Meyers's mom has gone to international competitions with her as a PCA since 2017, and Meyers, who is deaf and legally blind due to Usher syndrome, explained to POPSUGAR that it's crucial her mom accompanies her as someone with "two sensory losses," especially during the COVID-19 pandemic. Masks make it extremely hard to navigate the world because she often relies on reading lips in public spaces. Meyers's mom will help her around crowded airports and other areas (the Paralympic Village would have been one of those areas) and, most importantly, at night when Meyers takes her cochlear implants off and her vision also greatly decreases. Her mom would sleep in the same room as her in case of emergencies, too.
As a PCA, Meyers's mom was never given permission to be out on the pool deck, but navigating the competition floor and being in the water, Meyers said, is "second nature" and different staff members can assist her during swim meets. It's the daily tasks in unfamiliar places that she requires assistance with. She equates her relationship with her PCA to the relationship she has with her guide dog, who can't go to international competitions.
Meyers got her first official rejection to what she describes as her "reasonable and essential accommodation request" in May from the US para-swim team. Then, she and her agent reached out to the USOPC directly. When she found out she'd qualified for the S13 400m freestyle, 200m individual medley, and 100m butterfly, as well as the S12 100m freestyle in Tokyo, Meyers said she had mixed feelings since she was already in the midst of communication with the USOPC at that point and had heard one "no" after the other. Though she was honored to have made Team USA for a third time, she was still anxious to see if she and the USOPC would come to an agreement about bringing her PCA. They couldn't.
The USOPC had, instead, assigned one PCA for a roster of over 30 Paralympic swimmers. This person, the USOPC stated, came from a coaching background of more than 27 years, eleven of which were spent assisting para-swimmers. "Because of the complex nature of these games, the role of the PCA has been filled by a qualified staff member who is able to serve in dual roles and who can assist the team as a whole when needed," the USOPC told POPSUGAR via email. "This PCA joins a staff of 10 other accomplished swim professionals all who have experience with blind swimmers, totaling 11 staff for 34 athletes."
"We can challenge the system. How else are we going to encourage improvement, encourage change? We can do better. We have to do better."
Meyers officially submitted her withdrawal letter from the Paralympics on July 18, then announced her decision to forgo the Games two days later. She thinks having a single assistant as the designated PCA is unrealistic given the specific needs of everyone on the swim team. "For example, for the visually impaired or blind athletes, blindness is such a broad spectrum that everyone's different. We have two swimmers on the team that are completely blind, versus the other handful of swimmers that are partially blind. And then I'm deaf-blind," she said. "It's unthinkable that one person can be in 30-some plus spots at once."
While Meyers said that the USOPC cited "Tokyo and COVID restrictions," Meyers's dad told the Washington Post initially that connections he and his family have got hold of the Japanese government who, in turn, pointed back to the USOPC. The International Paralympic Committee (IPC) clarified to POPSUGAR via email that the size of the approved staff on Team USA saw no reductions for the Tokyo Games compared to Rio 2016. However, each country has a certain number of accreditations it can distribute to support personnel, and it's up to each country's national Paralympic committee — the USOPC, in this case — to "determine who the accreditations to non-athletes are provided to."
The USOPC explained to POPSUGAR via email, "Under non-COVID circumstances there would be some number of ancillary personnel in country that are not accredited by the organizing committee to support the delegation (personal coaches, personal trainers, etc.). This is not possible in Tokyo due to the COVID playbook guidelines." The IPC argues that the USOPC could have explored "extra accreditations (an out-of-quota request) to accredit Becca's carer" as someone who could travel to Tokyo. When asked about this accreditation, the USOPC said that the IPC was referring to an "athlete chaperone credential." Note: while the IPC did not confirm this exact credential is what they meant, they did say "some additional accreditations are generated for delegations that have athletes in eligible sport classes as well (Becca is not in one of these categories)." According to an IPC Accreditation Guide from 2019, this includes "athlete competition partners" such as guide runners and cycling pilots. The IPC denied any further clarification.
According to the USOPC, athletes can only have chaperones if they are minors or are "without legal capacity," naming athletes with intellectual disabilities specifically; by those requirements, Meyers does not qualify. The USOPC gave 17-year-old Anastasia Pagonis as an example of a minor with a chaperone in Tokyo. Pagonis's mom is there, but the USOPC did not pay for her travel or accommodations as they would have if she was a designated PCA. (Note: a document explaining the athlete chaperone accreditation indicated that National Paralympic Committees are responsible for the chaperones' accommodation and travel costs. The USOPC did not immediately respond to POPSUGAR's inquiry about why they do not pay for the Team USA athlete chaperones.)
The USOPC also sent POPSUGAR a statement saying a Paralympic Advisory Council will be "leading a dedicated effort to engage with disability rights advocates and experts in meaningful dialogue about athlete support and accommodation." The USOPC noted, too, that although there is "much work yet to do, in recent years we have made real strides in ensuring that Olympians and Paralympians both receive full and equitable resources and support. From the official name change of our organization to include 'Paralympic' in 2019, to increasing partner investments, to the development of new awareness campaigns that highlight the achievements and athleticism of our Paralympic athletes, to ensuring equal payouts for Olympic and Paralympic medal performances, to our broad commitment to athlete rights and to promoting an inclusive, safe, and fair culture in sport, our actions have demonstrated our commitment to the Paralympic movement."
Meyers pointed to this name change from USOC to USOPC and further challenged the organization to do better: "From the people I communicated with on the executive team, no one has a disability. I would like to see someone with a disability be represented. If we're going to have the P in the USOPC, representation is very important." Of the 16 members on the governing board (separate from the executive team), three are Paralympic athletes, the USOPC confirmed to POPSUGAR.
As you can see, there was a lot of back and forth and seemingly crossed wires when communicating about Meyers's PCA, and she said she's calling "all of the processes into question because it needs to be explained and needs to be evaluated." Senator Maggie Hassan wrote letters to members of the USOPC and Tokyo Organizing Committee the same day Meyers announced her withdrawal from the Paralympics, and other politicians and advocates have expressed their disappointment since Meyers's news made headlines. She isn't the only Paralympian to speak out on what they feel is the USOPC's lack of support — plus, it's not the first time she's said the USOPC let her down. "The more voices we have, the better chance of having change being occurred, to protect all future generations," Meyers stated. "We can challenge the system. How else are we going to encourage improvement, encourage change? We can do better. We have to do better. We have the resources. We can do better. We have to fight. We have to try."
"Everyone with a disability is the best judge of their own disability or disabilities. . . . We know what we need."
Meyers said she didn't know what the future held for her in the swimming sphere when we spoke earlier this month; it's all still "pretty raw," she said. She has six Paralympic medals to her name — three gold, two silver, and a bronze — and missing out on what would have been her third Games is difficult to accept. Outside of swimming, Meyers graduated this year from Franklin & Marshall College with a degree in history and even took a handful of classes focusing on disability rights.
At the time of our phone call, her teammates were en route to Tokyo, but Meyers said she planned to watch the Paralympics, which end on Sept. 5, as the "biggest cheerleader from home." Still, the push to fight for change remains. "Everyone with a disability is the best judge of their own disability or disabilities," Meyers stated. "We are all living with our disabilities on a daily basis. We know what we need."